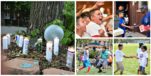 Full Documentary: Legacy of Hope
The Power of Football to Change and Save Lives

During the spring and summer of 2017, Emmy Award Winners Mike Leonard and Mary Kay Wall followed Pro Sports Experience and our partnership with Parents for Peace and Justice, as we served at-risk kids in Chicago neighborhoods.
The end result is a 30 minute documentary called Legacy of Hope.
It tracks the power of football to change and save lives–specifically focusing on the at-risk, high violence, gang-laden Chicago and South Milwaukee communities.
Featured are community leaders Robert Torres and Angel Lopez (Parents for Peace and Justice); Tom Finks (Pro Sports Experience) along with NFL Alumni (former Chicago Bears) Desmond Clark, Kris Haines, Charlie Brown and Brent Novoselsky as well as former Green Bay Packers Darryl Ingram and Chris Francies.