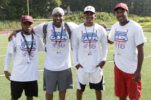 Non-Contact Football Camp with NFL Alumni Heroes in Your Community!
Want a great, non-contact summer football experience for your child?

Try a Pro Sports Experience Non-Contact Football camp!
They bring NFL Alumni Heroes and professional, USA Football Certified coaches to more than 80 communities each year.
Available to kids ages 6-14 years old, kids learn to run, throw, catch and play from experienced coaches and former NFL players.
Camps are led by professional coaches.
Supplemental instruction is provided by NFL Alumni Heroes from your favorite local team.  These are former players, fathers and family men that get great reward by teaching kids through football.  Examples of NFL Alumni Heroes participating at Pro Sports Experience summer football camps:
Atlanta Falcons like Steve Bartkowski, Billy Johnson, Wallace Francis, Bryan Scott and Lawrence Jackson.
Chicago Bears  like Rashied Davis, Nathan Vasher, Kris Haines, Al Harris, Michael Haynes, Jason McKie and Jim Morrissey.
Dallas Cowboys like Alex Albright , Demetric Evans, Doug Donley, John Gesek, Kevin Mathis, Tyson Thompson.
Green Bay Packers like John Anderson, Johnnie Gray, Kurt Larson, Dexter McNab, Darryl Ingram and Kurt Larson.
Kansas City Chiefs like Derrick Alexander, Deron Cherry, Anthony Davis, Bill Mass or Will Shields.
New York Giants like Stephen Baker, Rodney Hampton, Bart Oates, Odessa Turner and Perry Williams.
Philadelphia Eagles like Barnett, Bergey, Cobb, Pisarcik, Schad and Thomas
Tennessee Titans like Blaine Bishop, Brad Hopkins, Donald Nickey, Derrick Mason, Neil O'Donnell and Al Smith.
We teach non-contact football instruction to kids ages 6 to 14 years old.
We love all football players—flag, tackle or recreational backyard leagues. Boys, girls, experienced and dedicated players and newcomers are all welcomed. If a kid is into the game, that's all that matters.
Our primary goal is development. We want to build genuine confidence through dynamic instruction, encouragement, repetition and fun.
We want kids to develop athletically. Our program is designed to teach kids to run, throw, catch, defend, form block, form tackle and explode out of stance with proper technique and improved speed.
From there, we want to build confidence. We get great reward from teaching life skills through football. When kids develop composure, confidence, humility and a willingness to serve the team, they will carry those skills throughout life.
Ultimately, we do this to have fun. Our coaches and heroes rose to the top because they enjoy the game and the challenges it offers.
Join us for the best week of summer.  Click below to see our main summer camp page.