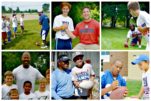 Our 7 Core Values at Football Camp
We consider ourselves an extension of you, the parents.
For children, when the message comes from parents, sometimes kids don't want to hear it.
Sometimes parents need help.
On the football field, we have a big advantage.  We have different people, messages, carrots and sticks.
Sometimes we can be a big help.
Our 7 Core Youth Camp Values and What You Should Expect
1. Develop Skills
Through dynamic instruction, vivid teaching images and quality repetition, we can achieve results.
By teaching skills and appreciation for all football positions, the athlete has options and knowledge for the days ahead.
2. Develop Confidence
Through positive reinforcement, patience and repetition, kids will experience improvement.
The skill progressions must be age appropriate so the child is challenge but can succeed.
We must vigorously reward effort and also acknowledge achievement when appropriate.
3. Have Fun
We must never forget–football is a game and we play for fun.  This is why we are here.
In our words and actions, we must display a joy for the game within an active camp.
And we must always keep our sense of humor–we value coaches that like to smile and laugh.
4. Teach Life Skills
To make an impact, our life-skill curriculum and assignments must be creative.
By staging age-appropriate challenges, we set the stage of great teaching moments for individuals and groups.
5. Provide a Vision
When Heroes and Coaches share personal stories, we learn the path to success is not easy–but we must never give up. It starts with a real, clear goal. Our examples will help shape those goals.
6. Honor Others
We require respect and appreciation for all camp members all the time.  We seek to build leaders through football and want everyone to fully understand the concept of teamwork.
7. Compete with Joy
We have achieved a great reward when we see kids compete with joy and freedom,  By teaching kids to leverage their skills and confidence for success, they can experience the most desired part of competitive sports.
Our camp is a Pro Sports Experience for Kids!  Join us.  Click the image below to find a camp near you.

Find a camp for football skills, life skill and fun!