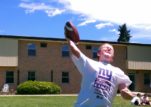 All Time Record Holders for NFL Punt, Pass and Kick Youth Football Competition
It's always better to make clearly defined goals.
And the numbers below give you exactly that–something to punt for, pass for and kick for!
Train hard and set a record in the NFL Punt, Pass and Kick Competition.
For scoring, camp contestants will do one punt, one pass, and one placekick.  The final score will be based on both distance and accuracy.
For example, if a youth camper passes the ball 100 feet, but the ball lands 30 feet to the left of the measuring tape, the final score would be 100 minus 30 = 70.  A camper's final score is the grand total of the three individual events.
For example, if a camper scores (50) for punting, (40) for passing, and (20) for kicking, the participant's final score is 110.
Totals prior to 1998 were not kept.

THE ALL TIME NFL
PUNT PASS AND KICK RECORD HOLDERS
Distance is Measure in Feet and Inches
| | | | | | | | |
| --- | --- | --- | --- | --- | --- | --- | --- |
| | | | | | | | |
| 6-7 Boys | | | | | | | |
| Name | Town | State | Session | Punt | Pass | Kick | Total Feet |
| Carter | Dallas | TX | 14-Jan | | 73'9″ | | |
| Matiwos | Hebron | CT | 13-Jan | | | 85'3″ | |
| Luke | Hinksdale | IL | 11-Jan | | | | 223'7″ |
| Alexander | Palm Beach | FL | 15-Jan | 76'9″ | | | |
| | | | | | | | |
| 6-7 Girls | | | | | | | |
| Name | Town | State | Session | Punt | Pass | Kick | Total Feet |
| Kloie | Mesquite | TX | 14-Jan | 57′ 4″ | | 66'9″ | 154'6″ |
| McKenna | North Fremont | NE | 14-Jan | |  47'5″ | | |
| | | | | | | | |
| 8-9 Boys | | | | | | | |
| Name | Town | State | Session | Punt | Pass | Kick | Total Feet |
| Luke | Hinsdale | IL | 14-Jan | |  105'11" | |  287'11" |
| Jaxxon | Flower Mound | TX | 14-Jan | | |  110'8″ | |
| Faddoul | Holts Summit | MO | 7-Jun |  93′ 1″ | | | |
| | | | | | | | |
| 8-9 Girls | | | | | | | |
| Name | Town | State | Session | Punt | Pass | Kick | Total Feet |
| Jayla | Kealakekua | HI | 13-Jan | | | | 241'2″ |
| Macy R | Tecumseh | NE | 14/15 | |  89'2″ | | |
| Gavin | Maquoketa | IA | 7-Jun |  77'5″ | | | |
| Mitchell | Mesquite | TX | 10-Jan | | |  94'4″ | |
| | | | | | | | |
| 10-11 Boys | | | | | | | |
| Name | Town | State | Session | Punt | Pass | Kick | Total Feet |
| Will | Hoover | AL | 12-Jan |  116'4″ | | 132'8″ | |
| Jason | Captain Cook | HI | 14-Jan | |  155'7″ | |  383'10" |
| | | | | | | | |
| 10-11 Girls | | | | | | | |
| Name | Town | State | Session | Punt | Pass | Kick | Total Feet |
| Eryn | Columbia | MO |  01/14 |  112'9″ |  112″0″ |  132'0″ |  356'9″ |
| | | | | | | | |
| 12-13 Boys | | | | | | | |
| Name | Town | State | Session | Punt | Pass | Kick | Total Feet |
| Nicholas | Goshen | IN | 14-Jan | 165'1″ | | | |
| Murray | Jonesboro | GA | 7-Jun | |  169′ 2″ |  155′ 0″ | |
| Alex | Spring Grove | MN | 14-Jan | | | | 463'11" |
| | | | | | | | |
| 12-13 Girls | | | | | | | |
| Name | Town | State | Session | Punt | Pass | Kick | Total Feet |
| Cullinan | Altoona | IA | 4-Mar | | | 131'8″ | |
| Fletcher | Decatur | AL | 5-Apr | | | | 340'9″ |
| Grant | Stratham | NH | 7-Jun | 123′ 9″ | | | |
| Gregersen | West Sacramento | CA | 4-Mar | | 117'0″ | | |
| | | | | | | | |
| 14-15 Boys | | | | | | | |
| Name | Town | State | Session | Punt | Pass | Kick | Total Feet |
| Kelly | Buffalo | NY | 10-Jan | | 212′ 5″ | | |
| Keys | Simi Valley | CA | 6-May | 154′ 5″ | | 176′ 1″ | 485′ 0″ |
| | | | | | | | |
| 14-15 Girls | | | | | | | |
| Name | Town | State | Session | Punt | Pass | Kick | Total Feet |
| Alisa | Des Plaines | IL | 14-Jan | | |  144'3″ | 387'5″ |
| Lalelei | Lahaina | HI | 14-Jan | | 145'9″ | | |
| Kayla | Mifflinburg | PA | 14-Jan | 143'1″" | | | |