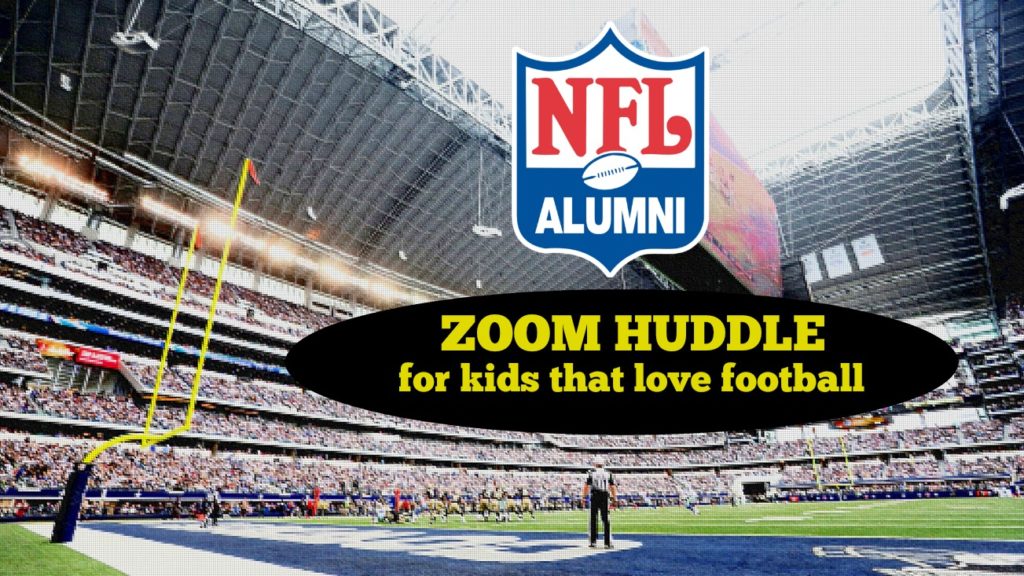 CLASS ROOM ZOOMS FOR KIDS
Classes start at just $10
CLASS MENU
1. Coach's Eye: Analysis of the New York Giant Game
Performance w/ Giants WR Stephen Baker
2. Coach's Eye: Analysis of Chicago Bears Game
Performance w/ Bears WR Kris Haines
---
THE 2021 SUMMER CAMP SCHEDULE IS BUILDING


V-Camp Sample Schedule
Focusing on QB, WR, RB, DB and Athlete Agility
Monday-Friday, 9:00 am-2:00 pm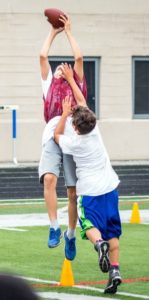 CENTRAL TIME ZONE MODEL
SAMPLE SCHEDULE with GENERAL PLAN
9:00 am:  Dynamic Warm Up, Agility
10:00 am:  Primary Lesson, Skills and Drills 1
11:00 am: NFL Alumni V-Camp Zoom Huddle
12:00 noon:  Lunch, NFL Player Feature
1:00 pm: NFL Alumni V-Camp Zoom Huddle
2:00 pm:  Primary Lesson, Skills and Drills 2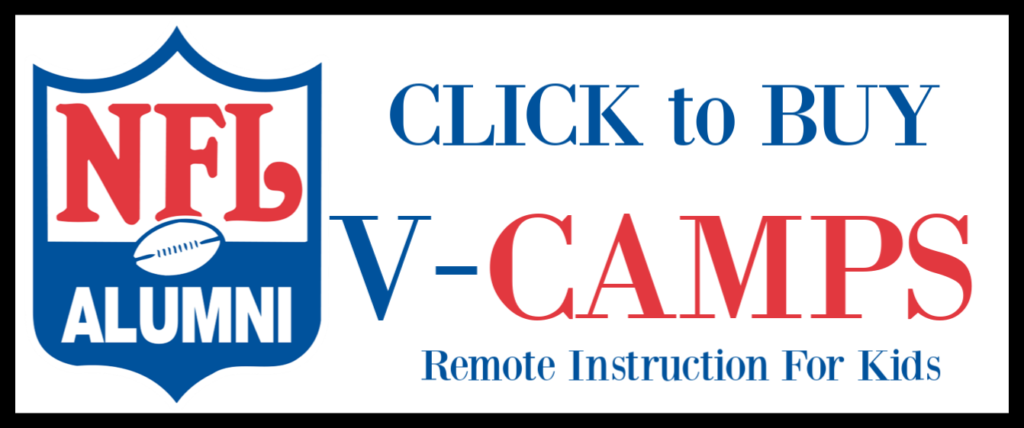 Pro Coaches & NFL Alumni Heroes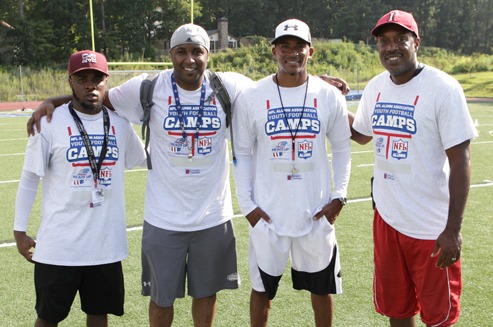 COACHES: V-Camps are led by professional, USA Football Certified coaches with High School, College or professional coaching backgrounds.
HEROES: NFL Alumni Heroes provide supplemental instruction.  These are former players, fathers and family men that played the world's ultimate team sport at the highest level. They join us because they love teaching kids through football.  See participating NFL Alumni Heroes on tab below. 
Other Helpful Details
A computer, laptop or Iphone connection is required.
For the best experience, an appropriately-sized football is needed.
Other helpful home training materials include a jump rope, old tennism markers cones, or wiffle balls, a target for throwing, cones, even access to a clean garbage can for throwing targets. 
Vital 5 Life Skill Lessons integrated into camp daily.
Be sure to stay nourished. Eat well, non-greasy foods.  Drink plenty of fluids and increase that on hot days.  Wear sunscreen always.
The Pro Sports Experience Staff
CAMP DIRECTORS: Camps are led by professional, USA Football Certified Coaches. Our coaches develop athletic skill, build confidence and provide positive reinforcement. These outstanding educators are the foundation of our day-to-day operations and the key to our program quality.
Scott Baum, Loyola Academy, (IL), 20 yrs exp
Al Crosby, Neumann-Goretti High School, (PA) 14 yrs exp
Dan Davis, Mt. Juliet High School, (TN)
John Grogan, St. Viator, (IL) 12 yrs exp
Tony Johnson, Evanston High School, (IL) 17 yrs exp
John Murphy, Farleigh Dickinson College –15 yrs exp
Dave Mogensen, University of Wisconsin-Milwukee, 15 yrs exp
PARTICIPATING NFL ALUMNI HEROES 
Our coaches are supported by NFL-Alumni Camp Heroes that played for teams including the Chicago Bears, Green Bay Packers, New York Giants, Philadelphia Eagles and Tennessee Titans.  These men, having  played the world's greatest team sport, are committed to teaching skills and values they learned through football.  Some of the following NFL Alumni Heroes are scheduled to appear at various times throughout camp operations and/or have appeared at Pro Sports Experience camps in the past.
In terms of scheduling Heroes, we will assign three to every camp.  However, we cannot guaranteed each Hero will be from your favorite hometown team.  
CHICAGO BEARS
Wendell Davis (LSU): Wide Receiver, 1988-93
Kris Haines (Notre Dame): Wide Receiver, 79-81
Jim Morrissey (Michigan State): Linebacker, 1985-93
Adrian Peterson (Georgia Southern): Running Back, 2002-09 
James Thornton (Cal State Fullerton): Tight End, 1988-92
Brent Novoselsky (Pennsylvania); Tight End,  1988 
GREEN BAY PACKERS
Kevin Barry, U of Arizona, Offensive Lineman, 2002-2006
Johnnie Gray, Cal State Fullerton, Safety, 1975-1983
Darryl Ingram, California Berkeley, Tight End, 1989-1993
Kurt Larson, Michigan State, Linebacker, 1991
Chris Francies, University of Texas at El Paso, WR, 2001-2002
Dexter McNab, Florida, Running Back, 1992-1994
Bryce Paup, Northern Iowa, Linebacker, 1990-1994
Paul Rudzinski, Michigan State, Linebacker, 1978-1982
Bill Schroeder, Wisconsin Lacrosse, Wide Receiver, 1994-2001

NEW YORK GIANTS
Stephen Baker, (Fresno State) WR – (87-92)
Keith Elias, (Princeton) RB – (94-96)
Sam Garnes, (Cincinnati) S – (97-01)
Rodney Hampton, (Georgia) RB – (90 – 97) 
PHILADELPHIA EAGLES
Fred Barnett (Arkansas State): Wide Receiver, 1990-1997
Bill Bergey (Arkansas State): Linebacker, 1974-1980
Garry Cobb (USC): Linebacker, 1985-1987 
Mike Schad (QueensU): Offensive Lineman, 1989-93
William Thomas (Texas A&M): Linebacker, 1991-2001
Brandon Whiting (Cal Berkeley): Defensive End, 1998-2003

TENNESSEE TITANS
Blaine Bishop (Ball State): Safety – 1993-2001
Gerald McRath (Southern Mississippi): Linebacker – 2009-2012
Brett Ratliff (Utah): Quarterback – 2011
Chris Sanders (Ohio State): Wide Receiver – 1995-2002