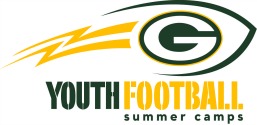 Packers17 @ Neenah, WI, M-F, July 24-28, 8:30am-11:30am
St. Mary Catholic High School, 1050 Zephyr Drive, Neenah, WI
For kids that love football!   Green Bay Packers Youth Football Camps develop athletic skills, football skills and life skills within a safe and fun non-contact format.  Available to boys and girls ages 6-14 years old, camps are led by USA Football-certified, Pro Sports Experience-trained coaches with supplemental instruction from Green Bay Packers Alumni Heroes like Ahman Green, Dexter McNab, Paul Rudzinski, Bill Schroeder and John Anderson.  Within our non-contact format, learn to run, throw, catch, defend, form-block, form-tackle and explode out of a stance with proper technique and improved speed.
Additional purchase options include Extended Supervision, After-Camp Instruction and Cancellation Protection
Compare
Product Description
Within our camp, we match the program with your camper's profile.   Our Comprehensive Skills program is for entry level players.  Our Accelerated Skills program is designed for experienced players that want to take their game to the next level.  In a non-contact football instruction format, we teach all football playing positions to all participants.  Kids learn to play, think and enjoy the game of football more than ever!