Sale!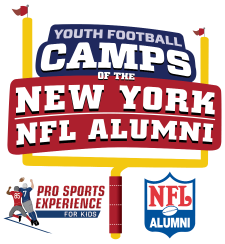 NFLAA18 @ Naugatuck, July 23-27, 5:30pm-7:30pm
Naugatuck High School, 543 Rubber Ave, Naugatuck, CT 06770
DIRECTED BY DAVE SOLLAZZO, HEAD COACH, NAUGATUCK HIGH SCHOOL:  Learn to run, throw, catch and play the NFL Alumni way.   Featuring appearances from New York NFL Alumni Heroes such as Bill Ard, Stephen Baker, Chris Calloway, Keith Elias, Sam Garnes or Billy Taylor (specific names to be announced on Monday of camp day).
Additional purchase options include Extended Supervision, After-Camp Instruction and Cancellation Protection
Compare
Product Description
It's Football Fit for Boys and Girls ages 6-14, by NFL Alumni Heroes. Learn to run, throw, catch and play within safe, non-contact or flag football instruction.