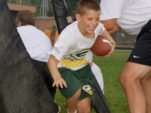 Green Bay Director Jacob Wolter Played for Hall Of Fame Coaches
Coach Jacob Wolter had the great blessing of being able to play for Hall-of-Fame caliber coaches his entire playing career. These coaches instilled valuable life lessons in Coach Wolter that helped shape him into the man he is today. Now, Coach Wolter seeks to create the same impact on young players as his great coaches did for him when he was a young player himself.  
The three most rewarding aspects of being a coach for Coach Wolter are seeing a player achieve something that they thought was impossible, seeing the connections and friendships that are formed through the game, and seeing kids having fun playing football.  
Coach Wolter has coached some players who have blown away his expectations. Coach Wolter believes that the character trait recipe for exceptional results in the game of football are self-motivated, respectful, driven young athletes. Coach Wolter wants everyone of his players to come to the realization that anyone can accomplish their goals if they are willing to put in the hard work.  
Want to join Jacob Wolter at camp?
Contact us to find out what camps Jacob Walter is directing