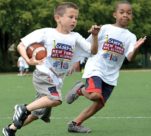 New York Director Manny Moran Finds New Beauty in Football
After being injured and having to give up playing the game that he loved, Coach Manny Moran was able to find a new beauty in the game of football. "I found myself looking and appreciating the game from a different perspective which led me to different opportunities such as coaching, officiating and the administrative side of the game. Knowing how instrumental it was in my own upbringing, I can't think of anything more rewarding to do with my time than to pay it forward."  
Coach Moran believes that the amount of effort and work that you put into the game of football is matched equally by how much satisfaction the game gives you.  
Coach Moran learned this lesson from a player named Cole early in his coaching career. Coach Moran admits to not paying very much attention to Cole because he was not as athletic as some other kids. By the end of the season, Cole was Coach Moran's favorite player because of Cole's desire to be great and his willingness to believe and trust Coach Moran.  
Want to join Manny Moran at camp?