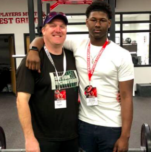 New York Director Keith Fagan Teaches His Players Respect
Coach Keith Fagan believes that almost all of life's valuable lessons can be learned through the game of football. Coach Fagan credits this statement for his desire to become a coach.  
One of the most valuable lessons Coach Fagan tries to teach through football is respect. "The one thing I hope all players learn from my coaching leadership is to treat others how you would like to be treated. To me respect is earned, not given. I believe that if I treat others with respect; if I allow others to be heard, if I make suggestions instead of bellowing commands, others will allow me to be heard and listen to my suggestions. Together we can achieve great things when a system and culture of cooperation and collaboration exists." 
Coach Fagan finds inspiration for his own coaching from his mentor, Coach Lou DiRienzo. Although Coach DiRienzo has a career record of 223-60 at New Rochelle High School, the aspect Coach Fagan respects most is the culture that he has been able to develop in his program. "His former players are pro players, doctors, lawyers, firemen, teachers, and great fathers, husbands, and brothers." 
"Life without regret is a beautiful thing, but it takes dedication to doing the right thing all the time, not just when it's convenient." (One of Coach Fagan's favorite quotes) 
Want to join Keith Fagan at camp?