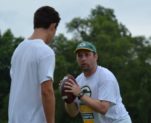 Green Bay Director Dave Mogenson's Passion for Coaching
The decision to become a coach was not a hard one for Dave Mogenson, but it was a very rewarding one. After his career as a college football player ended, it took Mogenson only one year to decide that coaching was something he wanted to do for the rest of his life. Mogenson says that the decision was not hard because of the plethora of life lessons he learned on the football field and the uniqueness of the game in bringing people together and teaching character.  
Some of the most rewarding coaching moments for Coach Mogenson come naturally from being around the game. Some of his favorite moments are seeing unsure campers progressively get more comfortable and excited every day, seeing kids from different cultures and upbringings working together, and seeing kids who might lack natural talent find success through hardwork and concentration.  
The two coaches that Coach Mogenson most looks up to are Tony Dungy and Steve Spurrier.  Tony Dungy is a retired NFL coach that reflects the character trait valued highly by Coach Mogenson, servant leadership. Similarly, Coach Mogenson admires Steve Spurrier for his "ability to be a successful ball coach while still keeping life in perspective and keeping his faith, family and mental health first." 
Want to join Dave Mogenson at camp?
Contact us to find out what camps Dave Mogenson is directing