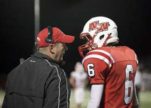 Chicago Director Scott Baum Understands His Players
Coach Scott Baum's passion for coaching the game of football was fueled at a young age by his father. His father's love for his job and the game was infectious in the Baum household, and Scott now follows in his father's footsteps.  
The best coaches that Coach Baum has had the honor of being coached by all have the same two things in common. "They made you feel like you were an important part of something bigger than yourself, the team." Baum deliberates that these great coaches also have the ability to understand players strengths and weaknesses and put them in situations where they are more likely to have success. 
Some of Coach Baum's favorite parts of his job are seeing campers focus and work hard to get better, getting to watch friendships and teammate relationships develop firsthand, and getting to promote the great game of football! 
Want to join Scott Baum at camp?