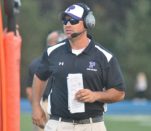 Philadelphia Director Evan Breisblatt Cares for his Players
Evan Breisblatt has over two decades of high school coaching experience, and has been a Director at Pro Sports Experience for six of those years. He finds coaching kids to be one of the most rewarding aspects of his life, as he enjoys watching them grow athletically, emotionally, and socially as they build relationships with their teammates.
His own high school football coach was a very big influence on Breisblatt as a student. He wanted to become a teacher and coach just like him at an early age, and knew he wanted to stay involved in sports when he entered college.
Breisblatt hopes his players learn how to become a better person through his leadership abilities and learn a sense of pride, integrity and character by emulating how he holds himself throughout camp and to carry those traits to other areas of life.
During camp, he believes the NFL Alumni Heroes are particularly impactful mentors for the young athletes. He says they have helped through their instruction with the players at their individuals stations and working with the campers on their fundamentals, as well as giving them life advice.
Over the years, Breisblatt has had many great players who have been all-league, all county and even all-state. He believes he was able to connect with them early on in their careers and show them that he cares for them as a player and person and showed them that they could do things they didn't know they could do.
Want to join Evan Breisblatt at camp?
Contact us to find out what camps Evan Breisblatt is directing