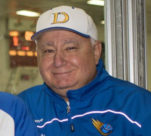 Chicago Director John Wallin's Unique Philosophy
John Wallin learned from his coaching mentors that the key to good coaching is understanding each of the players as separate individuals rather than finished products. He takes on that own philosophy in his pursuit to shape his young athletes to be better than they ever could be on their own and guide them to be the best they can be.
He believes that the most rewarding aspects of coaching are seeing his players learn a process that will carry over to every area of their life, watching them learn how to push themselves and have fun along the way, and seeing the smiles on their faces as they progress.
Wallin sees the NFL Alumni Heroes as significant enhancements to the camp attendees experiences. He said what the campers see and hear about each players life story is that they too can dream and that dream can become reality if they believe in themselves and work hard. The NFL Alumni are more than childhood heroes, they are the very best in their field.
Want to join John Wallin at camp?
Contact us to find out what camps John Wallin is directing