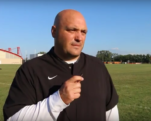 Chicago Director Jesse Pierce Centers Coaching Style Around Love
Not many coaches have the opportunity to shape the lives of state champion athletes. Jesse Pierce has. Throughout his 19 seasons coaching football, most recently as the head coach at Niles West High School, Pierce has developed a coaching style centered around one concept: Love.
"I hope that the kids I coach learn how to connect with one another and build strong bonds through the shared adversity that comes from building a football team." Pierce says some of his strongest relationships were forged playing and coaching the game of football, and he hopes that his players are able to create thosesame types of relationships with their teammates and coaches.
Throughout his two decades of experience, Pierce has narrowed down his most rewarding moments to three core areas:
The moment when a player performs the technique in a game that they have practiced over and over.
Teaching kids the value of teamwork. Getting kids to work together provides them with great life lessons, and mentoring them through the process.
Experiencing the joy of watching kids running around outside and having fun. I
Pierce's first coaching influences were his high school coaches and his dad, and he often models his teachings after theirs. He also likes to reflect the philosophy of Pete Carroll, as he values his infectious enthusiasm and love for his teams.
Coach Pierce has always seen coaching as a vehicle for preparing young people for all twists and turns of life and says that coaching is the ultimate form of educating because great coaching affects the mind, body, and spirit.
Want to join Jesse Pierce at camp?
Contact us to find out what camps Jesse Pierce is directing