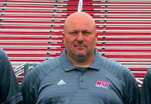 New York Director Peter Lesler Believes Effort is Everything
Peter Lesler has been coaching football since 1996. He began as a high school assistant coach, took over as head coach at Bergen Academy, and took on college football when he accepted the role of defensive backfield coach at Montclair State University.
Lesler hopes all players come away with one lesson after working with him: Effort is everything. His philosophy revolves around the idea that when young people work hard and continue to work hard, they can achieve anything.
He believes that this philosophy is further exhibited by the NFL Alumni Heroes at camp. Lesler says the lessons the young athletes take from the Heroes are always memorable and apply to all aspects of life. Some of his favorites include: 1) Do your absolute best. 2) You can achieve anything you put your mind and effort into. 3) Be a great student, and 4) Always work hard, and try your best. Not only do the Heroes impact the kids through their speech, but also through their actions. Lesler says he loves seeing the excitement and determination on the kids' faces as the Heroes run drills and teach the campers the proper fundamentals and techniques that should be used in playing the game of football.
Several players that Lesler coached went on to play in the National Football League. He says they achieved this because of their commitment to being the best football player they can possibly be, a concept which he attributes to his favorite acronym: "BGE." "If you Be Great Everyday in all aspects of life there is no limit to what anyone can achieve."
Want to join Peter Lesler at camp?
Contact us to find out what camps Peter Lesler is directing