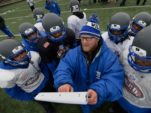 Chicago Director Troy McAllister Teaches Life Lessons
Troy McAllister has over 15 years of coaching experience, including at Queen's University, Dunbar Career Academy, and Phillips Academy High School. After almost two decades as a mentor, McAllister still finds the joy in coaching that encouraged him to teach young athletes in the first place.
He credits his high school coach, Berk Brean, with having a huge impact on his life and guiding him to fully develop his passion for the game of football and coaching. Now, his favorite part of the game is getting to see kids learn and have fun while doing it. He hopes that they will develop the same lifelong passion for the game of football that he has and learn the life lessons that are unique to football.
One of McAllister's favorite coaching memories comes from a player who exceeded his expectations: Amani Jones. He said that when Jones began high school, he had never played football before. But through hard-work, dedication and being coachable he was able to earn a scholarship to the University of Iowa. McAllister is proud to have helped shape Jones into the man he is today and hopes he can continue to do so for many young players in the future.
Want to join Troy McCallister at camp?
Contact us to find out what camps Troy McCallister is directing