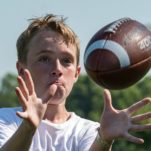 Custom Built Football Instruction is For Your Convenience
Make More Football Plays | Privates, Small Group, Clinics or Parties
Fall schedules are packed.  School, sports, family and time for the unexpected.
That's why we offer Custom Built Football Instruction.  It's high quality, low pressure opportunities to learn more about the game you love.
In short, we assign a coach and then collaborate on the most convenient program for you and your child.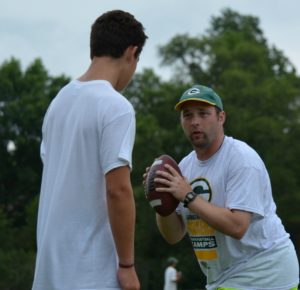 Most of our Pro Sports Experience Coaches have NFL playing experience.  All are ready, willing and able to build confidence and skills for young athletes that need a boost.
That boost could be as simple as developing an understanding of the game and developing motor skills that produce results.
Or it may be elite, high-intensity training to meet the next big youth football challenge.
It does not matter–tackle, flag or newcomer to the game.  Either way, we have a coach for you.
Most important is this simple fact.  We like good guys that happen to know a lot about football.
Yes, we are driven and competitive.  But we are fathers and family men too.  We can challenge, support and hopefully bring a smile to your face with a little humor.
Though we train hard, we do remember — football is a game.  It's a way to get fit, learn life skills, make friends and build confidence that will translate into all areas of adult life.
If you learn the fundamental fact that hard work always produces positive results (sometimes ones that are not readily seen) that is a gift greater than a 5 touchdown game.
Of course, a five touchdown game is cool too — but you get the point.
So check out our coaching menu.   Then contact us and tell us how we can help your child or team.
We offer privates, small group, team clinics and parties to celebrate a birthday or special day.
We are excited for this program started.