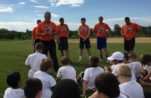 In Praise of Great Coaches and 8 Crucial Things They Do!
As parents, did you imagine a different level of connection with your kids?
Did you imagine you would host regular family huddles where you, as parent and head coach, espoused the facts of life and the families' clear path to success?
Did you plan to use the Brady Bunch family operating model—where without hesitation a family meeting formed, Greg, Peter, Bobby, Marsha, Jan and Cindy were present, attentive, alert, sober and ready to follow your lead?
Well, what happened?

Nobody could anticipate the enormous family dynamic shift – driven by a generation of parents that often choose to insulate children from failure, create their success and promote the acquisition of labels before credible, self-earned accomplishments for their child. And phones did not help.
Or, maybe things just got away from you—and before you knew it they were nearly full grown – and they have not had time to listen to much you offer.
Either way, we say "thank God for great coaches."
Great coaches have filled the void for many parents. Depending on the sport, great coaches get 50 or 60 moments on the pulpit, where they have 7-10 minutes to tell your child and his/her teammates "this is how you and we are going to be today." Like teachers and clergy that get the opportunity, the Head Coach's 10 minutes of "pregame" or "pre-practice" time may be the most influential in your child's life.
Consider these crucial lessons that both coaches and parents teach children:
8 Crucial Things Coaches Teach Children
How to regulate feelings
Confidence to explore surroundings
Verbal discipline –choosing the right words at the right time.
Real leadership skills
Respect for self and others
Good from bad
Work ethic
Somebody cares
The value of team sports can often be diminished. Sadly, parents have inflated the values from sports that have little or no lasting value (i.e. "AAA teams," All Star teams, points per game, batting average vs. commitment, team work, sportsmanship–things that matter in adult life) .   What should be emphasized is the enormous long-term value of what Great Coaches really teach—the lessons that can change a life.


YOUTH CAMPS
Chicago Bears
Green Bay Packers
Tennessee Titans
NFLAA YOUTH
Dallas Alumni
New York Alumni 
Philadelphia Alum