Leadership Bowl One: When Rivalry Ends and Brotherhood Begins
Parents for Peace and Justice partners with Pro Sports Experience for At-Risk Communities
July 29, 2017
The most fierce rivalry professional sports?  It's the Chicago Bears vs. the Green Bay Packers.
Since 1921, the Chicago Bears and Green Bay Packers have clashed 194 times with Halas, Lombardi, Butkus, Nitschke, Sayers, Horning, Payton, Favre, Urlacher and Matthews leaving nothing behind but blood, sweat and tears.
There is something important to learn from the sheer intensity of this historic NFL rivalry.
With this in mind, we built Leadership Bowl One.
Leadership Bowl One is a one-day touch football festival for boys ages 6 to 14.  It's designed by Pro Sports Experience and supported by the NFL Alumni Association, Chicago Bears Youth Football Camps and Green Bay Packers Youth Football Camps.
Hosted by Steinmetz High School in Chicago, Leadership Bowl One matched children from South Milwaukee, Wisconsin versus children from Chicago's Belmont Kragin-Humboldt Park neighborhood.
Pro Sports Experienced worked with Chicago's Parents for Peace and Justice and Milwaukee Boys and Girls Club to identify the participants.
With clear skies and 72 degrees, it was "game on!"   These kids felt the rivalry– and a big responsibility to bring home victory for their local NFL team.
Prior to the event, the kids got a competitive boost as each participated in a 5-day Touch Football training experience at their local Chicago Bears or Green Bay Packers Youth Football Camp locations.  For five days, they learned to run, throw, catch and play from Pro Sports Experience coaches and NFL Alumni Heroes. Thanks to this training camp experience, they arrived prepared.
Adding more fuel was the participation of NFL Alumni Bears and Packers, including Charlie Brown, Kris Haines, Brent Novoselsky, Darryl Ingram and Chris Francies at Leadership Bowl One.   With the former team members coaching on the sidelines, all of the kids wanted to deliver, big time.
With four fields, 14 coaches, 6 NFL Alumni, 300 fans and 120 kids competing, Leadership Bowl One did deliver — and the competition was fierce.

RIVALRY IS FINITE, BROTHERHOOD IS FOREVER
The kids knew they were representing a great sports rivalry–but a "sports rivalry" is much different than the rivalry these kids experience, every day in their lives.
In Chicago last year, 4300 people were shot with 720 murdered. Much of this violence is driven by gang rivalry. To kids within these neighborhoods, the concept of "rivalry" means to seek victory with a permanent, violent conclusion and sad, life-changing consequences.
With that backdrop, and at every opportunity, the impressive NFL Alumni Heroes and Pro Sports Experience coaches set out to change that mindset.
Former Chicago Bear Kris Haines summarized Leadership Bowl's objective:  "We want the kids to battle with total intensity and give everything to their team," said Haines.  "But when the game is over, the game is over.  At that point, nothing is more important than brotherhood and sisterhood. The requirement to contribute to your team, your community and your family continues.   Don't help yourself by hurting others.  Help yourself by helping others."
Former Packer Chris Francies added, "When the Packers and the Bears play, it is a total commitment to winning.  But when the game is over, you shake hands and get ready for the next game.  There is no other choice but to move forward, win or lose.  We might be Packers or Bears, but we are all brothers and sisters in life. We tried to explain that to the kids."

THE BIG TRADE: YOUR ENEMY IS YOUR FRIEND
To further highlight the idea that "rivalry ends, but brotherhood is forever," the teams traded half of their players to the opposite team at halftime.
And this created quite a stir!
Pro Sports Experience Director Tom Finks explained the idea.  ""In the first half, the kids competed hard.  Some were very happy and some were sort of upset with the first half results. That's sports.  The trade forced the kids to reevaluate their situation–quickly.   Some Milwaukee team stars became role players on their new Chicago team. Some role players had to suddenly take a leadership role.   Suddenly, your opponent is your teammate and enemy your friend.  It was a great teaching platform and good way to put the kids on the spot and see how they respond."
Finks added, "Life is constantly changing and you must work it out.  The trade really made them consider those knee-jerk emotions and judgments.  It forced them to put on new colors, adjust to new circumstances and work with new people.  This was a terrific life lesson."

THE END RESULTS
Leadership Bowl One was a terrific day for football.
But it was just one great day for many kids that have experienced too much tragedy and sadness in life.
The hope is to build on this experience and further serve many more children of Chicago, Milwaukee and beyond.
"We need solutions to end the violence," says Parents for Peace and Justice President Robert Torres.  "I am certain that professionally run sports programs like Leadership Bowl One will make an enormous impact.  The positive influence of strong coaches is profound.  Ultimately, great coaches are teaching kids important life skills through sports."
Torres added, "These coaches and programs are out there–we need to bring them into our communities," Torres added.  "I am certain programs like Leadership Bowl One can and will save lives  in our community."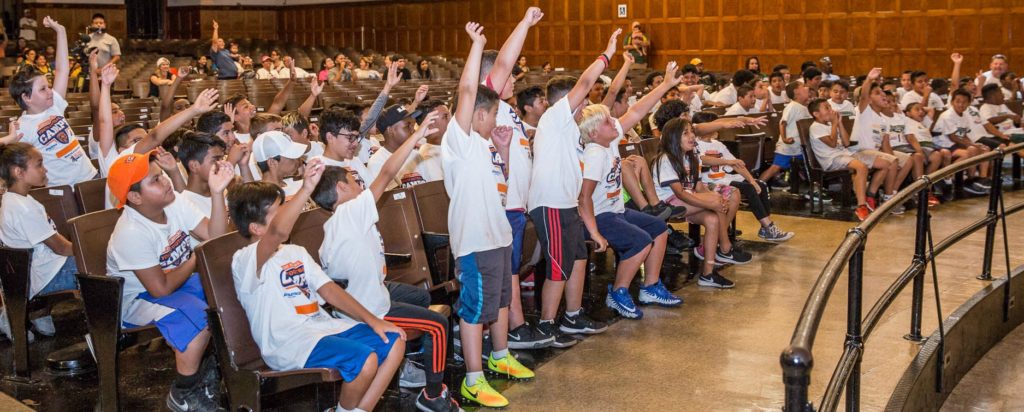 GET ON OUR TEAM
Contact Pro Sports Experience and tell us your story.   Can you help us help Parents for Peace and Justice?
Learn more about Parents for Peace and Justice here.