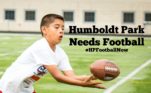 Humboldt Park Needs Football
Sports can change lives.
But can sports save lives?
Two Humboldt Park Chicago men, Robert Torres and Angel Lopez, have an impassioned belief that flag football can and will save lives in their community.  And they are relentless in their pursuit to make it happen.
Humboldt Park Chicago is among the most violent communities in America.  Last year, it suffered 850 violent crimes and 22 homicides.  Many of the crimes were committed by young people.
Especially in the summer, Humboldt Park kids have nothing but time, going unsupervised for 8-10 hours with nothing to do.   Working parents race home every day, praying the kids are alright.
Robert and Angel see a flag football league as a powerful, long-term solution to the violence.
WHY A FOOTBALL LEAGUE?
You may not realize it, but the soccer or basketball or football or hockey league your child competes in dramatically impacts your child, reinforces your values as parents and changes the dynamic of your community. Here's how things change:
1.     THE MIX:   A flag football league allows the community to reconfigure—putting kids and parents, previously unfamiliar or in opposition, on the same team cheering for the new kids and seeing the good in new people,
2.     THE PLATFORM:  By establishing a flag league, league leaders and coaches use the platform to establish strong behavior expectations for participants and parents.  We will shake hands before and after every game.  We will compete with composure, sportsmanship, humility and grace.  We will appreciate referees.  We learn the joy of victory and properly manage the agony of defeat.
3.     THE STATE OF MIND:  As the ultimate team sport, football gives kids a chance to prove themselves in ways that last a lifetime.  Accomplishments through sports are never forgotten by those that achieve them.   Every week, the kids can have a chance to make a statement—in a very positive way.
4.     THE LIFE SKILLS:   Beyond spirals and touchdowns, football is a game that teaches character.  Through the excitement of competition, coaches will teach kids to manage their emotions—which carries over to life.
5.     THE NEW DOORS:   Football is the number one American sport.  Football education provides an opportunity for these kids to experience the enormous American football culture—Friday Night Lights, College Football Saturday and NFL Sunday.  Within these larger groups, kids can further expand their friendship network and open new doors in life.
THE 2017 PLAN
THE 5-DAY CAMPS and THE LEADERSHIP BOWL 
1.     Provide 100 financial aid scholarships to kids ages 8-14 years old to attend summer football camps.
These camps operate for 5-days and provide safe, non-contact football instruction.  Kids of all experience levels are welcomed.  Many of the following kids will enjoy football for the first time.
a.     50 for kids from Humboldt Park will attend Chicago Bears Youth Football Camps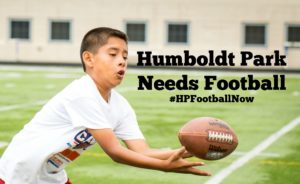 b.     50 for kids from South Milwaukee will attend Green Bay Packers Youth Football Camps
Both camps will take place Monday, July 10-Friday, July 14 somewhat near their respective communities.  Busses will be required to transport the kids from their communities to the camps.
Camp participation is donated by Pro Sports Experience.
2.     On Saturday, July 29:  Host the Leadership Bowl
The Leadership Bowl is a one-day football festival featuring Latino neighborhood kids that received scholarships from Pro Sports Experience to attend a Chicago Bears or Green Bay Packers Youth Camp.
a.     We will bus the kids from Milwaukee to Chicago for a one day football festival
b.     Pro Sports Experience coaches, NFL Alumni from the Green Bay Packers and NFL Alumni Chicago Bears will coach.  They will compete representing their home team, learn life skills and simply have fun playing football.
3.     Donated Video Documentation:  Leonard Films
Mike Leonard Films has generously agreed to document the entire story–free of charge to support the cause. This documentation will demonstrate how football brings joy and education to a divided community.  It is expected to highlight exactly what Robert and Angel and dozens of Humboldt Park parents believe—that sports can in fact both change and save lives.
THE 2018 PLAN:   THE SUMMER LEAGUE
With video documentation, we can demonstrate without question the value and social impact a league can provide.  The video will allow us to grow our support base and build a legitimate and impactful Humboldt Park Football League in 2018.
Thank you for your consideration.