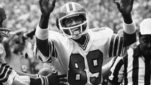 A Winner in more than Football: Wallace Francis
A Winner in more than Football
Francis' Learn to Win program targets today's youth instilling discipline, courage and the will to learn
Written by JohnFranco Joyce, PSE Writer
Wallace Francis walked away from the National Football League in 1982 with a preeminent calling to Christ.  After nine seasons in the NFL, the electric wide receiver and kick returner went into the Christian Ministry and now continues his work as the national director for an international organization called Ambassadors for Christ to help train leaders in the ministry of the Gospel.
He credits his high school coach, a World War II veteran, for instilling valuable intangible lessons within him, "The game of football taught me respect for authority, that's the first thing I got from my high school coach."
Francis' brother, Harold, served as a role model for Wallace.  Harold went on to run in the 1968 Olympics. Francis said, "He was my idol."
At Louisiana's Franklin Park Avenue High School, Francis earned himself a full ride scholarship to the University of Arkansas at Pine Bluff for both football and baseball.  Yet, following his sophomore year of college, Francis decided to solely focus on football in an attempt to go professional.
Francis made himself a name in the NFL.  After being drafted by the Buffalo Bills, he led the league in kickoff return yards and touchdowns as a rookie in 1973.  He was then traded in 1975 to the Atlanta Falcons where he is notorious for his role in the Big Ben Right play.  In Atlanta, Francis emerged as a receiving threat with quarterback Steve Bartkowski at the helm.
With plenty left in the tank, Francis chose to direct his passions elsewhere.  He said, "It was not the expectation I'd become a Christian." He went on, "This other career had a bigger passion in my life at that time."
He finished with 244 receptions, 3,695 yards and 27 touchdowns in nine seasons. Francis said, "I left it on the field.  The comradery is what I miss but I enjoy catching up with those guys at camps like this."
Francis' work with the youth is extensive.  He leads a program aimed at children called Living to Win where he instills lessons of individual discipline, the need for courage and the will to learn mentally, emotionally and physically.
Francis looks at the themes of courage, discipline and growth as skills he has deduced from looking back at his life, grasping lessons from his high school coach and having a Biblical perception.  His positive role in educating the youth further extends to the field of football.  During his NFL days with the Falcons, Francis ran offseason clinics and continues to run a youth camp.
Francis said, "I think everything rises and falls on leadership. High school coaches have one of the biggest roles in modeling and molding young athletes."
Moreover, Francis provides supplemental football at Pro Sports Experience Youth Football camps where life skill and football instruction are taught. These camps are led by professional Football certified coaches.
Francis affirmed, "It's in the little league or high school were kids are developed to fly."