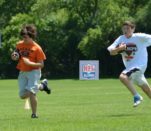 Our Secret to Setting SMART Goals for Sports Success
Submitted by John F. Wallin for Pro Sports Experience and NFL Alumni Youth Football Camps
How to Set S.M.A.R.T. Goals for Sports and Life Achievement
Jump start next season by adding another tool to your Pro Sports Experience toolbox.
Today's subject: "S.M.A.R.T. Goals"   
This approach to goal setting is supported and taught by NFL Alumni Youth Camp Heroes at all Pro Sports Experience youth football camps.  This approach can be used in all aspects of life: sports, education, training, planning for a trip.
Keep in mind:  The game of football as in life is centered on accomplishing goals. Example: First down and ten yards to go….your goal is to move the ball past the 10 yard marker. When you accomplish that goal—bingo!  They give you four more downs and you have a new goal.   When you score a touchdown they give you six points and another opportunity to score the extra points.  What a great game!
THE ONE RULE:  WRITE IT
Our approach is based on one essential rule:
The Written Goals Crystalizes the Thought.
A goal is a dream moved to a specific written plan of action: 
Writing the goal crystalizes thought. When you affix your signature to that goal, you own it and are now accountable to yourself, your team and coaches.
THE FIVE COMPONENTS
There are 5 components that you must include in the written goal:
Specific
Wanting to be a better receiver is a dream. Let's turn your dream into a GOAL. A goal must have a "specific result."
Example: To catch 99% of every pass thrown to me at every practice. 99% is a Specific Result.
Measurable
A goal must be measurable. "Measurable goals" give you an accountability to the goal, your team and coaches:
Example: Catching 99% of all passes thrown to me every practice can be counted, measured and documented.
Attainable
A goal must be "Absolutely Attainable."  Catching 100% of all passes thrown to me is an admirable wish.
Catching 99% is "Attainable."
Realistic
A goal becomes "Realistic" if what you want to accomplish contributes to: 1) The team mission, 2) Improves your performance and directly contributes to your team's mission, 3) within your physical and mental capabilities and 4) so you commit to the goal and what it will take.
Time bound
A goal must be accomplished within a "Specific Time Period."   Goals without a deadline are not really goals.   You want to create urgency in your mission while being fair to yourself and your other priorities.
SUMMARY
Check out the acronym above.  In short, the goal must be Specific, Measurable, Attainable, Realistic and Time bound.   In other words, the goal must be smart.   Now get started and write some S.M.A.R.T. Goals.
Examples: 
To catch 99% of all passes thrown to me each day of practice for the next 30 days.
To improve my math grade from 76% to 92% within 30 days.
To gain an average of 15 yards after each catch in the next game.
See you at the goal line!
Sincerely, Coach John Wallin
Pro Sports Experience

NFL TEAM YOUTH CAMPS
Chicago Bears
Green Bay Packers
Tennessee Titans
NFL ALUMNI YOUTH CAMPS
Atlanta Alumni
Dallas Alumni
Kansas City Alum
New York Alumni 
Philadelphia Alum