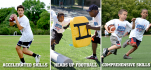 Top 10 Reasons Parents Love Our Youth Football Camps
Pro Sports Experience is proud to present Chicago Bears, Green Bay Packers, Tennessee Titans Youth Football Camps as well as NFL Alumni Hero Youth Camps featuring  Alumni members from the New York Giants, Philadelphia Eagles, Atlanta Falcons, Kansas City Chiefs and Dallas Cowboys.
Top 10 Reasons Parents Love Our Youth Football Camps
www.ProSportsExperience.com
1. NON-CONTACT SKILL INSTRUCTION: Learn to run, throw, catch, defend and compete like a pro–in t-shirt and shorts (the perfect summer uniform).
2. MORE FUN: Confidence, NFL Alumni Hero encounters, team games, skill contests, Championship Friday, awards, prizes, and positive energy make it fun.
3. CUSTOM FIT PROGRAMS: We develop skills of kids ages 6-14 years old. No experience is necessary because we have a program to fit your needs. Our Comprehensive Skills Camp is for newcomers. Our Accelerated Skills Camp is for experienced players.
4. PRO, USA FOOTBALL COACHES: Our coaches are certified to teach Heads Up Football skills, managed by Pro Sports Experience for Kids. This means you will have experienced, optimistic, organized coaches that love teaching kids through football.
5. HEROES: NFL Alumni Heroes from your favorite local team. Former Chicago Bears, Green Bay Packers, New York Giants, Philadelphia Eagles, Tennessee Titans.and Dallas Cowboys visit the local camp. They teach football skills, life skill and make the camp more fun–with autographs as well!
6. LIFE SKILL EDUCATION: We are really teaching life skills through football. Teamwork, respect and optimism are essentials.
7. TOTAL PREPARATION: Your local team football tryouts may be just around the corner and you need to be fit, skilled and ready. Our conditioning, speed and athletic challenges will help get you ready for the season.
8. ATHLETIC SKILLS TRANSFER: Football skills are the most comprehensive athletic challenges of all sports. Teamwork, footwork, hand-eye coordination, concentration and hustle are all essential.
9. AFTER CAMP PROGRAMS: After Camp Offense or After Camp Position-Specific Instruction is available for campers that want more.
10. SAVE $SS TODAY:. Register now and save.
www.ProSportsExperience.com