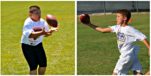 Kids: How to Catch More Footballs and Be an Every Down Wide Receiver
By John F. Wallin for Pro Sports Experience, LLC
Becoming an "Every Down Dependable Receiver"
No matter what level of football you play (Flag, Pop Warner or High School) every receiver wants to be known as an "Every down dependable wide receiver."
Dependable receivers are made, one drill, one repetition and one day at a time. Receivers come in all sizes and shapes from compact to long, from quick to slow.  There are no finished products.  We are all in stages of development.
Your goal is to develop receiving skills that help you to become dependable on every play.  A dependable receiver is always looking  to improve their eye-hand coordination throughout the year to better see the football all the way into their hands.
TOP DRILL:  OFF THE WALL
The  "Off The Wall"  drill will help you reach that goal. The drill can be performed alone or better yet, with a teammate.
You will see REAL progress in a few short weeks.
Equipment needs: 2 Tennis balls, a wall (with permission to use) and a desire to improve.
Alone: Always warm-up before exercise.
Stand, facing about  5-7 feet from the wall, feet shoulder width apart, knees bent, weight evenly distributed.
Start with the ball in your right hand (You can start with either hand).
Speed should progress from warm-up, slow, medium and fast.
Start with 3 sets
Drill Sequence: 1 Set:   Bounce Ball Off the Wall and Catch

15 right hand throws, left hand catch
15 left hand throws, right hand catch
15 Right hand throws, right hand catch
15 Left hand throws, left hand catch
15 throws either hand, two-hand catch
Add-Ons: Set Goals
Drill with your partner…He/she stands behind you and throws.
Compete with yourself…100 catches without a drop, 200, 300
Vary throwing and bounce angle to receive the ball below and above your waist
Visualize a game. Every individual set moves the CHAINS TEN YARDS FOR A FIRST DOWN. Move the chains down the field.
Celebrate when you score a touchdown
Keep a journal to track your progress
This motivation and drill idea is provided by Pro Sports Experience, managing partners for Chicago Bears, Green Bay Packers, Tennessee Titans and NFL Alumni Hero Youth Football Camps.
Need more help? Choose an NFL partner youth football camp in the right column.


YOUTH CAMPS
Chicago Bears
Green Bay Packers
Tennessee Titans
NFLAA YOUTH
Dallas Alumni
New York Alumni 
Philadelphia Alum