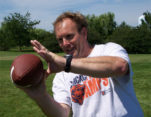 The Best of Chicago Bears Youth Camp: Kris Haines
The Keys to Success in both Life and Football
Former NFL wide receiver Kris Haines shares a bit of advice from personal experience
Written by JohnFranco Joyce, PSE Writer
The energetic former Chicago Bears wide receiver Kris Haines spent his collegiate and NFL years catching bullet passes from the likes of Joe Montana, Joe Theismann and Vince Evans. What's more, he went to battle on the gridiron with notorious Bears such as Hall of Famers Walter Payton and Dan Hampton. These days, Haines is among the Chicago Bears most active NFL Alumni, teaching over 1,000 kids the game of football every summer. He is one of many NFL Alumni with a keen ability to bring the best out of children by providing supplemental instruction and education at camps provided by Pro Sports Experience.
The former Notre Dame receiver spent 1979-1981 with the Chicago Bears after being picked in the ninth-round by the Washington Redskins. Throughout his football days, he had the luxury of playing alongside leaders such as Joe Montana, Bob Avellini and Mike Phipps. The combined efforts of Montana and Haines led Notre Dame to a 1979 historic comeback victory over Houston University with Haines ultimately catching the game-winning pass. Moreover, he gives great admiration to former coaches including his father Dave Haines and former Notre Dame Head coach Dan Devine.
Haines, now a teacher in Chicago, believes, "Dare to dream you can make it [in reference to football]." He truly believes people often fall short of their dreams because they fail to take the risk of simply trying.
With that core belief, Haines offers a measured approach – and emphasizes that careers in football are great, but not everlasting.
He affirmed, "It is okay if you want to be a professional football player but it doesn't last that long."
As a teacher, he places an emphasis on doing well in school. He said, "Nothing happens without good grades."
As the son of a football coach, the game was always a part of Haines' life. Yet, after he walked away from the game in the mid 1980's, he explored new avenues where he attended law school and acquired a real estate license before working his way back into the game as a coach. He now works as an assistant football coach at Niles West in Illinois.
Haines said, "Football is the purest team sport. It takes a lot of mental skill, you have to be smart to play."
While developing football skills is highly stressed at the camps, the presence of former players like Haines providing both football instruction and life skill education creates for an engaging and inspirational environment for children ranging from 6-14. These former professionals give valuable tips to better groom children for their future in football and in life.
Haines said, "Stay on a regime, it translates." He continued, "The hard work you put in on the field will translate to the classroom."