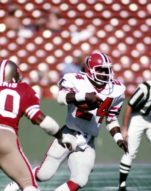 Football serves as an escape for youth
Football is proven to teach life lessons
Former Atlanta Falcon Haskel Stanback reflects on the valuable lessons learned playing the game of football
Written by JohnFranco Joyce, PSE Writer
Haskel Stanback spent the 1970's decade weaving through lineman at the University of Tennessee as a tailback before ending up in the NFL as a fifth round draft pick.
Stanback, a product of a single family home and the oldest of six children, said, "Like the story so many kids have nowadays, I was hoping to be successful at what I was doing so I could go back and help mom and my younger brothers and sisters."
Sports came easy to Stanback. "I didn't see the big deal people would make about scoring touchdowns or running a certain time," he said.
Rather, football served as a source of escape for Stanback. As the oldest of six, sports enabled him to get out of the house and have a social lifestyle.
He spent seven seasons playing the grueling running back position for the Atlanta Falcons from 1974 to 1979. Looking back, he recalled "discipline, responsibility, listening and the team concept" as key intangible skills learned playing with a band of brothers.
Stanback said, "Leaving the comradery and the trust you develop amongst your teammates was the hardest part [about walking away]."
Stanback then took the knowledge he gained in his professional playing career and applied them in his new career path as a railroad worker at Norfolk Southern. Not to mention, Stanback graduated University of Tennessee with a logistics degree.
He said, "It was a humbling experience because I basically had to start out rock bottom. Even though I had the college degree, I didn't have the experience." Relentlessly, Stanback worked his way all the way up to Superintendent of Norfolk Southern's Virginia Division.
"It is the simple things; person is only as good as their word," Stanback said. With the wisdom gained throughout his personal and playing journey, Stanback provides supplemental football instruction and life skill education through camps provided by Pro Sports Experience Youth Football camps. Led by professional Football certified coaches, the camps are designed to build confidence, build a passion for the game–and also fun! Kids ages 6-14 are welcomed to attend.
He said, "When you're struggling, you have to tighten up you're boot straps and realize you can deal with whatever it is." He assured, "Everyday is a blessing, take it one day at a time."
Stanback is one of the many former professional football players dedicated to providing supplemental education and instruction to children on the game of football and sharing life lessons through camps provided by Pro Sports Experience.