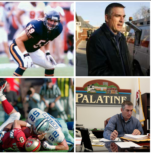 Using football as a tool to teach life lessons to children
From managing defensive calls to heading a local government
Meet Jim Schwantz, mayor of Palatine and longtime National Football League linebacker
Written by JohnFranco Joyce, PSE Writer
Jim Schwantz, mayor of Cook County's Palatine Village, is one of many former football players who have rightfully utilized the key lessons learned within football. He has applied these lessons and experiences to further broaden aspects and avenues within his life.
"Perseverance, hard work, dedication, passion, motivation, those are things I try to bring everyday," Schwantz said. Schwantz entered the NFL as an undrafted linebacker signee out of Purdue for the Chicago Bears.
His seven years of NFL experience, highlighted by a Super Bowl XXX victory with the Dallas Cowboys, have proved to be critical in his political career as a mayor. Now he uses the skills learned, tangible and intangible, to aid the lives of children.
Motivation
Schwantz said, "The fear of being cut was the thing that motivated me day in and day out." The exposure to both personal and surrounding motivation continue to serve as valuable.
Schwantz mayoral campaign in 2008 came at a critical point for the town he once grew up as a child in and his football career served as a platform to voicing his political ideas.
"The colors on my sign were blue and orange," Schwantz said laughing.
Recalling his pro bowl season in 1996 with Dallas, Schwantz recanted an often told story of his quoting coach Switzer's words to him as he walked into a meeting room at the halfway point of the year, "You're a pretty good player for a guy we almost cut."
Courage
While Schwantz was relatively new to the political landscape in 2008, he indeed won the Palatine mayoral election and has since won an uncontested re-election in 2013 proving he is more than just a football player.
Schwantz, who helped the Dallas Cowboy's achieve their Super Bowl XXX victory over the Pittsburgh Steelers, recalls the role of football in his political life as Palatine mayor.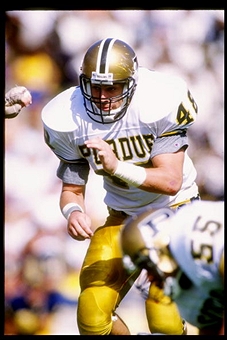 Duty
Schwantz said, "Those life lessons you learn in football, being part of the team doing your role, being counted on, counting on others, it's integral to what I've become."
Aside from previously working with former Bears Thom Thayer and Jay Hilgenburg on WBBM, Schwantz now provides supplemental football instruction and life skill education through camps provided by Pro Sports Experience Youth Football Camps. Led by professional Football certified coaches, the camp are designed to build confidence, build a passion for the game–and also fun! Kids ages 6-14 are welcome to attend.