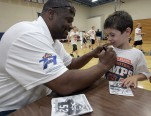 A Champion NFL Player, Now a Champion Coach
Super Bowl Champion Mickey Pruitt returns as a director for the Chicago Bears Youth Football Camps for his 13th season. Coach Pruitt played 5 seasons in the NFL for the Chicago Bears and Dallas Cowboys, winning Super Bowl XXVII  against the Buffalo Bills. As a Chicago Bear, Coach Pruitt is known for an important interception against the Philadelphia Eagles in the famous "Fog Bowl" playoff game.   He is also the winner of the prestigious Brian Piccolo Award, given to the player who best exemplifies courage, loyalty, teamwork, and dedication.
Coach Pruitt began his coaching career with Colorado University, and later joined the University of Hawaii  as an assistant coach. His coaching experience combined with his playing abilities, make Coach Pruitt an excellent mentor for young football players. Tom Finks, of Pro Sports Experience, says this of Coach Pruitt:
"Coach Pruitt has the ability to use his playing experiences as teaching moments for young football players. He wants players to have hands on experience, allowing them to learn and develop as athletes through repetition and concentration."
Come learn from a champion this summer at Walter Payton Prep and Lane Tech Academy. Register Today!