Tackling Concussions: Myths and Answers
Energy & Commerce Commission Hosts Experts to Analyze State of Concussions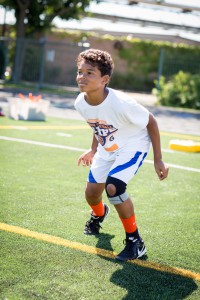 On March 14, 2016 the Energy & Commerce Committee hosted a round table discussion on the current state of the concussion research in the United States. The round table featured  leading clinical physicians, medical experts, and NFL and NCAA representatives.
The end result was the scientific findings have not yet provided a definitive "answer", as the public narrative has outpaced the scientific research.  However, "the sky is not falling." The physicians stressed the need to use science as the basis for determining the course moving forward, dispelling myths and educating parents, athletes, and medical professionals.
Here is what some of the leading physicians said at the round table:
On Science vs. Public Opinion of Head Injuries
"[T]he topic has been elevated into the public spotlight, such that all the stakeholders, including sports parents, assume we already know the answers to all the critical questions, and they want those answers now. And perhaps there is no more unenviable position for scientists to be than to have to catch-up with the public narrative."
 Dr. Michael McCrea, Ph.D[i]
On Dark Room Treatment Myth vs. Active Concussion Management
"The sky is not falling. [People] should return to activity within a day or 2 of a concussion. Not contact sports. Being in a dark room, resting, is not the treatment for injury in any level, including concussions. It's sad for our youth, it's bad for our professional athletes to spread that belief."
Dr. David Cifu, M.D.[ii]
"We are starting to learn that active approach to management and treatment are much more efficacious than sitting in a dark room. I treat a lot of problems in that philosophy of putting kids in a dark room in terms of chronic anxiety, chronic migraine. I've seen kids that are suicidal, extensive suicidal ideation from that type of treatment and I really believe we need to propagate the fact that we have made tremendous improvements in how we asses, diagnose, treat and manage kids with the injury, and yes get them back to sports safely."
Dr. Michael Collins, Ph.D[iii]
"The simple question that is often asked by any parent is when should I allow my child to do XYZ risk activity. And we don't have those answers yet. At the same time we also know that we want kids to be active"
Dr. Gerard Gioia, Ph.D[iv]
On Diagnosing Concussions
"It's never going to be a single test. It's never going to be $1,000 MRI or DTI…. [W]e have physical exam, we have neurological testing, we have physiologic testing, such as computerized eye tracking. There are plenty of ways to diagnose this."
Dr. David Cifu, M.D
On Changing the Rules of Sports

"We need science to lead the way. If we make sweeping changes in sports without having that science, we could have unintended consequences that I see every day in clinic."
Dr. Michael Collins, Ph.D
"[I]t depends in part on your bio-mechanics, your physical maturity, your psychological maturity, all these kinds of factors. American hockey has gone to this development model, and a lot of sports are looking at that now as a model system for matching the person, their developmental age and the game and its particular skills."
Dr. Gerard Gioia, Ph.D
[i] Dr. Michael McCrea, Ph.D., Professor of Neurosurgery and Director of Brain Injury Research at the Medical College of Wisconsin.
[ii] Dr. David Cifu, M.D., Chairman and Herman J. Flax, M.D. Professor and Senior TBI Specialist, U.S. Department of Veterans Affairs
[iii] Dr. Michael Collins, Ph.D, Director of University of Pittsburgh Medical Center Sports Medicine Concussion Program
[iv] Dr. Gerard Gioia, Ph.D,  Division Chief of Neuropsychology and the Director of the Safe Concussion Outcome, Recovery & Education Program at the Children's National Health System and Medical Advisory Board Member of USA Football