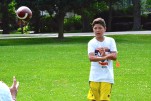 For Newcomers, A Great Place to Learn and Have Fun Playing Football!
Our NFL partner camps not only are the best place to learn the game, your child will develop athletic skills that apply to all sports and have a great time doing it.
Within our safe, non-contact football instruction, kids lead to run, throw, catch and compete using every facet of athletic skill.
With solid teaching images, repetition and encouragement,
kids gain confidence and that will help them in football, other sports and ultimately every day of their life.
Rest assured, our youth football camp coaches welcome many newcomers to the game and are very excited to help that youngster meet his or her goals.
For many, they take these skills and apply them to their upcoming Flag Football or Tackle Football season.  For others, our youth football camps are all they need for the year.
Either way, parents should be excited to send their child to our NFL partner youth football camps as the child will leave with any new athletic skills, increased confidence and having had a blast!