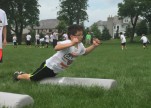 Will my child learn to block and tackle?
All of our NFL partner youth football camps provide safe, non-contact instruction.  Within that instruction, we develop athletic skills, muscle memory and technique for blocking and tackling.  This is achieved through USA Football's Heads Up curriculum.  We train campers by teaching form and technique on air, on bags and on other football campers (but again in a very controlled and safe manner).
Our objective is to improve the campers posture, footwork, approach and intelligence of blocking and tackling techniques so they do each in a better, safer manner.
These skills not only protect youth football players, but many other contact or collision sports like hockey, lacrosse, basketball and soccer.
Ultimately, our youth football campers are not only safer, but they are much better, more productive players because of our football camp instruction.
Check out our website for more information and to register today!