Football Drills Without Helmets…The Future.
Could football players play safer by running helmet-less drills? This is the question a recent article by Kathryn Doyle posed. With movies and documentaries recently appearing in the mainstream media concerning concussions and head traumas, parents are more concerned with the long term safety of their children- and rightfully so.
Former Rugby player, Erik E. Swartz, believes the lack of helmets in his sport, protected him from head trauma. He believes helmets for football players provide a false sense of security. Swartz said they tend to lead with the head because they know they'll be protected. Swartz and other researchers believe if even temporarily removed, that players will have to rely on other ways to keep themselves safe, avoiding the dangerous after effects of concussions.
The University of New Hampshire participated in a study where half of the team ran "helmetless-drills" and the other half continued with their usual drills. Players who participated in the helmet-less drills immediately experienced 30% less head impacts in games and practices once suited up.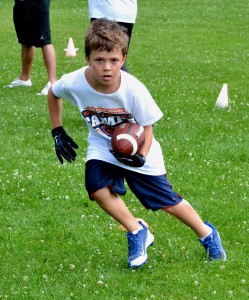 Swartz wants to focus on better form and again, allow players to focus on protecting themselves without their "false sense of security." Although helmets have been redesigned in an effort to protect players and prevent injuries, Swartz feels that his helmet-less drills, once expanded across larger studies, will better protect players.
Director of Operations for Pro Sports Experience, Mike Gross, agreed with Swartz's observations. As a USA Football Certified Coach himself, he knows the importance of safety in football. He said "By practicing blocking and tackling with out a helmet, a player is going to use the front of the shoulder as point of contact, instead of the head and helmet. He'll keep his head and eyes up. This is the point we teach during the "Hit" progression of HEADS UP tackling during camp."
At all of our NFL partner youth football camps, we've been doing Heads Up, non-contact instruction so kids play a better, safer brand of football.  We have always known this is the right approach but it's nice to see some scientific data that supports our long-time commitment.
Sources: "Drills Without Helmets May Reduce Head Impacts in Football" by Kathryn Doyle
National Athletic Director's Association: http://bit.ly/1JchB1p