Using NFL Journey to Inspire Youth Football
Using NFL Journey to inspire Youth Football
Wendell Davis goes by many titles: athlete, entrepreneur, coach and our favorite, Chicago Bears NFL Alumni Camp Hero.  After a rewarding college career at LSU, Wendell was the first round draft pick for the Chicago Bears in 1988 and had six successful seasons with the team. When asked what the most important ingredient in becoming a professional football player was, he said it was important to "not have a selfish attitude and remember it's not about you." Wendell demonstrates this every summer at the Chicago Bears Camps by leading the campers to develop their teamwork and sportsmanship skills.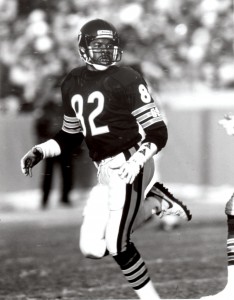 The current NFL players who impress Wendell most are Russell Wilson and Antonio brown due to "their hard work, consistency of play and never give up attitude". After a devastating injury he suffered in a game, Wendell demonstrated the same qualities he admires in others now. He injured both knees badly on the same play but was determined to play again. He worked incredibly hard to recover his speed and strength and eventually returned to professional football. This is one of the many things Wendell chooses to share with campers because more than talking-the-talk, our Heroes walk-the-walk.
Tom Finks, President of Pro Sports Experience, appreciates having Wendell's support from the opening day. Finks said, "Back in 2002, Wendell was in our first class of Chicago Bears Alumni Heroes and among the first big names to really support our youth football camps.  That was so important to the program. His involvement gave us credibility and great momentum from the start."  We feel honored Wendell Davis chooses our camps to support with year after year and look forward to another great summer in 2016.
Our Chicago Bears NFL Alumni Youth Football Camps are led by professional, USA Football Certified Coaches. Our coaches develop athletic skill, build confidence and provide positive reinforcement. These outstanding educators are the foundation of our day-to-day operations and the key to our program quality.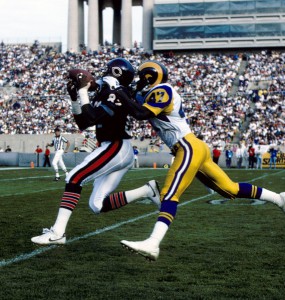 Our coaches are supported by NFL Alumni Heroes from the Chicago Bears. These are men that earned their living wearing the Chicago Bears uniform.  Chicago Bears Youth Camp Heroes are fathers and family men that understand the dynamics of communicating with young people.
To learn more about these football camps, visit www.ProSportExperience.com and choose an NFL Alumni or team market near you.