Girls in Football–Off the Sidelines and into the Game!
Realizing that Flag Football is a truly great team sport, girls continue to poor into and often  dominate the game.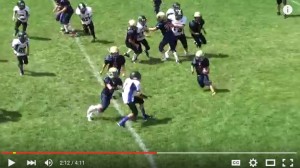 Even more, girls are enjoying the chance to participate and succeed in tackle youth football around the country.
Watch a young female player break through the pack for some long runs!
https://www.youtube.com/watch?v=3njTuI7dtSY
Girls are joining us at Chicago Bears, Green Bay Packers and Philadelphia Eagles Youth Camps.
Learn more about our programs and get into the game!
[button link="http://prosportsexperience.com/contact/" type="small" newwindow="yes"] Contact our NFL Partner Youth Camps[/button]