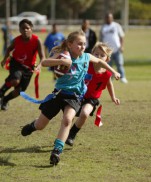 Breaking Down Barriers and Breaking Tackles
Football has been a boys club since its inception as an American sport. Boys play it as children and then grow into men who pursue it as a career, play it on the weekend with buddies, or simply watch it on Sundays. Its woven in to the fabric of American masculinity. But in the past decade or so, girls have taken a stand and reclaimed the sport as a national past time for everyone, regardless of gender. Today, 44% of the NFL's fans are women. Girls and women are more than ever populating stadiums and sports bars. Surprisingly though, until recently, playing football has been relatively inaccessible to them. USA Football, the NFL, and the Chicago Bears Youth Football Camps are hoping to change that, by supporting the growing demand for girls football leagues and participation in football.
In 1998 Florida became the first state in the U.S to recognize girls flag football as a high school varsity sport. They started with seventeen schools, with 860 female athletes and hosted their first season. By 2010 the program had over 5,000 girls
participating (that's a 481% increase in 12 years!). And the craze has only continued to grow. Shortly after Florida, the sport became very popular in Alaska. A representative of a school in Anchorage noted that commonly more girls play football than Basketball in the Alaskan city. In 2012 New York City and D.C. area schools began offering Flag Football as an official women's varsity sport as well, and Texas, North Carolina, and Virginia are looking to start programs soon.
With the growth of women's varsity flag football programs in high school there is hope that the next step is NCAA recognition and accreditation. Enthusiasts all over the nation and at USA Football hope that the fad will continue and women's flag football will become another varsity sporting option for university students.
As part of the effort to get more girls involved in football the Chicago Bears have partnered with USA Football for their Chicago Bears Youth football summer camps. They are open to boys and girls ages 6-14 and teach kids the fundamentals of the game. The camps are non-contact as well, so offer an excellent opportunity for girls to get acquainted with football and learn to love playing the sport from an early age.
In most co-ed settings there are obvious concerns about injury, and physical disadvantages in higher levels of game play as kids get older, but non-contact camps like the Chicago Bears Youth Football camps serve to even the playing field a bit. In a non-contact setting girls aren't testing their strength against the other male campers, they're learning how to play the game and competing against their own best efforts.
"We just want to grow the game of Football," noted Tom Finks, Executive Director of the camps. "Regardless of gender, or skill level, our goal is to expose kids to football, teach them how to play the most professional way possible, and hopefully have them come out of the experience loving the game as much as we do." He adds, "We highly encourage girls to attend our camps. Football is for everyone."
Sign your daughter up for one of our Youth football camp this summer and help us grow the game of football!
Follow the link to sign up today: http://prosportsexperience.com/bears/
[button link="http://prosportsexperience.com/contact/" newwindow="yes"] Learn More About our NFL Partner Camps[/button]