Staying Organized Through the Hectic Sports Season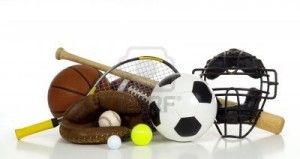 This week marks the beginning of the season for many spring sports and with a new sport season often comes new sport gear. How do you keep your sport gear organized especially if you have multiple children playing multiple sports? The first thing you need to do is establish a sport zone in your house. Designating one area where sports items go will save you lots of time in trying to find equipment, uniforms, etc. Your zone doesn't have to be big you can make even the smallest of spaces work for you and your family.   Try these great tips we found online:
Bench It: Paint an old storage chest and add metal bins inside to keep equipment organized by sport or family member, suggests MarthaStewart.com. An added bonus? The chest makes a great seating area for taking off muddy cleats or wet socks.
Keep Uniforms Handy (& Clean): Put two color-coded baskets by the back door or the laundry room: one for dirty, one for clean. Make it a habit to immediately put your uniforms in the dirty basket after the game, says designer Kyle Schuneman in an article on for the Spokesman-Review. As soon as uniforms are washed, place clean clothing in the clean basket you'll never again have to sort through messy bedroom drawers looking for your son's baseball jersey.
Use the Door: Make the most of that empty space behind the closet door with an over-the-door rack that can hold bats, balls, helmets, and even team jerseys, writes RealSimple.com. You can even use a hanging shoe organizer to hold items such as lacrosse balls or batting gloves. Because the open pockets keep everything visible and accessible, you won't have to rummage through the depths of your closet to find that lost golf glove.
Keep it in the Car: During this time of year, many parents feel like they spend most of their time in a so why not keep you equipment there as well? We keep most of our equipment in one of those plastic milk crates in the cargo area of our SUV, says Yahoo! Blogger K.W. Callahan. This way it keeps everything together and balls from rolling all over the place when driving. Bigger items such as tennis rackets can be placed flat under the seats.
Invest in Ball Claws: We loved this idea from Unclutterer.com. Ball claws attach to your walls and hold onto basketballs, soccer balls and footballs. Easily gets those items off the floor of your garage.
Pack a Bag: Create an equipment bag for any sport, even if it uses a small amount of equipment, suggests the blog OrganizedToday.Blogspot.com. Sports bags can be packed and put in the garage, mudroom, etc. As soon as you return from your sport, clean out the bag, repack and you're ready to go to the next game or practice.
What tips do you have for keeping equipment organized?
[button link="http://prosportsexperience.com/contact/" newwindow="yes"] Learn More About our NFL Partner Camps[/button]