Life Lessons Learned: What Coaches Teach Besides Just Sport Skills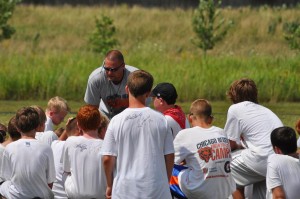 Being the coach of a youth team is a really important job for you are responsible for helping to build the very foundation on which these young athletes will grow. We searched the Web to find some of the best life lessons coaches are teaching on and off the field:
Teamwork
As adults, we all know that being able to work together as a team is key to success both in our personal and professional lives. Youth sports is all about teamwork and emphasizes the importance of learning to work together towards a common goal, even if we don't necessarily like each other very much. Whether it be a school project or business meeting, you're going to have to work with people you don't like, but you still have to get the job done, states Jodi Murphy in a blog post on Outside the Lines. Being involved in youth sports teaches you that even if you don't like someone personally, they are a critical component of your team.
Dedication
We've all heard the adage if at first you don't succeed, try, try again. However, even as adults, we struggle to keep going despite our challenges, obstacles and yes, even failures. Players cannot improve their skills without constant practice, states Raymond Bureau of Yahoo Voices. We will teach him the skills, but he must practice them on his own. It is through the art of dedication that young athletes learn from the mistakes they make and always work to improve.
Organization
When your schedule is full you must think ahead and schedule when to get everything done, says Gretchen Aherns for the blog Active Rain. If the football bus isn't going to get you home until 11 p.m., when will you do your homework? Being organized is an important asset as your young athlete gets older and will serve him or her well as they move beyond their school years and tackle the real world.
Independence
The reality is that you will not always be there to pave the way for your child, fix things, argue with coaches etc. etc., writes Michael Boyle of StrengthCoach.com. Kids will grow into adults and experience grumpy co-workers and mean bosses. Constantly insulating kids from difficult situations and consistently cleaning up the mess they create defeats the purpose of sport. Boyle goes on to share one of his favorite quotes: Prepare the child for the path, not the path for the child.
Patience
It is important for kids to not only learn to be patient with themselves, but with others. Whether it is perfecting their swing or swimming stroke or waiting for another team member to pass the baton, youth sports teach children that sometimes the best things really do come to those who wait, states The Sports Bloc.
What other life lessons are you kids learning on the field?
[button link="http://prosportsexperience.com/contact/" newwindow="yes"] Learn More About our NFL Partner Camps[/button]