Which U.S. Presidents Played Football?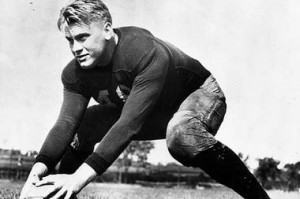 Did you know that several U.S. Presidents spent time on the football field? Which one has been rumored to call a play from the White House? Here are some of our Commanders in Chief in all their football glory:
Dwight Eisenhower has been quoted as saying, "not making the baseball team at West Point was one of the greatest disappointments of my life, maybe my greatest." But, that disappointment led him to make the West Point football team where he was a varsity starter as both running back and linebacker and tackled the famous Jim Thorpe of the Carlisle Indians.
John Kennedy played football at Harvard, but unlike his brothers who all excelled at the sport (both Robert & Edward were Harvard football lettermen), JFK did not progress beyond the JV team due to illness and injury in his freshmen year. Despite his physical ailments, JFK remained as active as possible in sports, often participating in touch football games with his family and friends which might have led him to create one of his most famous quotes: "We do not want our children to become a generation of spectators. Rather we want each of them to be a participant in the vigorous life."
Richard Nixon was a reserve tackle for Whittier College in California, but his biggest football claim to fame came from a legendary story involving the Washington Redskins. Known as "Nixon's Play," the story claims that the Redskins coach George Allen, received a phone call from Nixon on the eve of their 1971 playoff game against the San Francisco 49ers. Rumor has it that Coach Allen used the president's suggestion for a play against the 49ers –a play that lost the Redskins yardage and ultimately led them to lose the game.
Gerald Ford was all-state at South High School in Grand Rapids, MI, and went on to become an MVP for the University of Michigan (even playing against the Chicago Bears as a member of the 1935 collegiate all-star team). After turning down several pro football offers (including one from the Green Bay Packers), Ford took a coaching position at Yale and applied to its law school.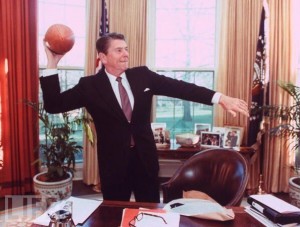 Ronald Reagan was a lineman at Eureka College in Illinois, but his more well-known football connection is for portraying Notre Dame football great George Gipp in the 1940 film Knute Rockne, All American, Reagan was given the nickname "Gipper" and used the real George Gipp's famous line "just win one for the Gipper" as he was running for the presidency.
Barack Obama hasn't played football since his youth but has been an avid fan since his younger days. He once compared being president to playing the game of football to Jerry Seinfield. He said, there's "a lot of specialization. A lot of hitting… a lot of attrition. But then every once in a while you'll see an opening… you'll see a hole and then there's open field."
PRESIDENT ELECT DONALD TRUMP:  President Elect Donald Trump was a strong athlete and good football player–wearing #85 at New York Miliary Academy.  Trump credits the game for providing many important life lessons.  Former classmate Ted Levine says Trump was "a great athlete.  He could have played pro baseball as a pitcher…he was gifted athletically."  In the mid 1980s, Trump went on to own the New Jersey Generals of the USFL–a franchise that competed with the NFL and rostered such players as Hersell Walker and Doug Flutie.