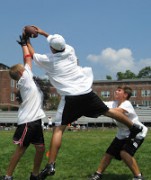 Youth Sports Camp: The Gift that Keeps on Giving
It's official: the holidays are upon us.  Black Friday and Cyber Monday have passed by, but some of us are still scrambling to find gifts for our loved ones.
Though the winter weather makes it hard to think about summer activities, consider giving the gift of youth sports summer camp to your child this holiday season.

 

Planning ahead will guarantee the child a spot at the desired camp, as spots are sure to sell out quickly closer to spring.

 

Plus, it ensures that kids will have something to do when school is out for summer, rather than just sit inside watching TV and playing video games.
Youth sports camps can get pricey, but buying months in advance often allows the opportunity to save money.

 

Also, knowing the incredible benefits of physical activity for children makes sports camp hard to resist.

 

Positive effects of youth sports are countless, including:
·

        
Developing an understanding of teamwork
·

        
Maintaining a healthy lifestyle through physical activity
·

        
Building friendships and other social skills
·

        
Forming a strong sense of confidence and leadership
·

        
Understanding the importance of putting forth best effort
As a gift, sports camp as a gift is an out-of-the-box idea that gives a child something to look forward to; it's almost like a second gift when summer rolls around and the child remembers he or she gets to go to camp soon!