Pro Sports Experience Blog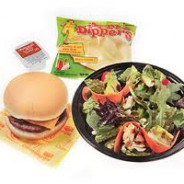 McDonald's fast food chain is stepping forward in the journey to promote healthier eating habits to its customers. Recently, the company announced it will discontinue its promotion of soda on its kids menu. Instead, healthier side items will be emphasized, like water, milk, or juice. Although soda will continue to be an option to customers, it will no longer be promoted to the public. Other changes are being made as well. To market healthy eating to children, packaging designs were adjusted to encourage kids to eat more fruits and vegetables. McDonald's is also giving the option to adults to choose a side salad, fruit, or vegetable to substitute the regular French fries choice.
McDonald's worked in partnership with the Alliance for a Healthier Generation, an organization set up by the Clinton Foundation and the American Heart Association.
Former President Clinton says "If we want to curb the catastrophic economic and health implications of obesity across the world, we need more companies to follow McDonald's lead and step up to the plate and make meaningful changes."
http://www.nytimes.com/2013/09/27/business/mcdonalds-moves-toward-a-healthier-menu.html?_r=1&