Pro Sports Experience Blog
While some of us may still be battling cold temperatures, warmer weather is just around the corner and you are probably beginning to fill your summer calendar with activities, events and CAMPS.  While most summer camps help children build confidence and learn a new skill, sports camps do all that and more—helping your child develop physically, socially and even intellectually as they try something new, improve upon their athletic skills, and learn to appreciate sports in all their glory.
Consider a summer sports camp if your child wants…
1. To Try a New Sport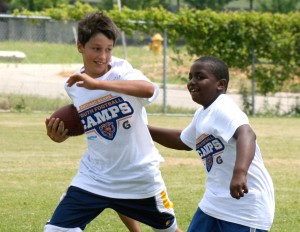 It's not always easy for a child to try a new sport—he or she might feel apprehensive or nervous, especially if they have friends that are more experienced at the game.  In addition, most organized sport opportunities come with long-term team commitments.  A sports camp overcomes those challenges by giving your child the opportunity to try a sport and see if it is a fit for his or her interest and skill level.  Look for camps that divide campers by age and experience level to ensure that your child will receive the right level of instruction and support.  At our camps, we believe this is the best way to not only teach technique and skill, but to give kids an overall appreciation for the sport of football, even if our camp will be their only football experience.
2. To Improve a Sports Skill
Even the more experienced young athlete can benefit greatly by attending a sports camp.  While they may already have a love and appreciation for the game, a sports camp will allow them to improve upon skills and techniques they are already learning from games and practices.  Look for camps in your child's sport area of interest that offer more advanced instruction such as the Chicago Bears Youth Football Camps Accelerated Skills Section.  Through these types of programs, campers will benefit from improved training techniques, more advanced fitness drills and more advanced team play concepts—all for the purpose of getting them ready for their regular sports season.
3. To Move
There is a reason schools have regular physical education classes and recess—kids need to move.  But, during the summer months, that movement may be limited to moving from the couch to the kitchen.  Sports camps not only keep your child moving during the summer, but they also teach the importance of living an overall healthy lifestyle.  Consider camps that go beyond just providing physical activities and sign up for those that will also give your child a dose of healthy living knowledge such as how to make nutritional food choices, the importance of hydration and why a good night sleep is important.
4.  A Mentor
Instead of directors and counselors that make sure the day-to-day operations run smooth, sports camps have coaches who interact with campers in a positive and encouraging way—coaching them not only in skills and techniques, but in important life lessons such as discipline and leadership.  The New York Giants Youth Football Camp coaches and NFL Heroes help children develop trust, confidence and self-esteem—all things that will help a our campers be great on and off the playing field.
Pro Sports Experience is the official youth camp management company for Chicago Bears, Green Bay Packers, New York Giants and Philadelphia Eagles Youth Football Camps.