Football Activities and Schedule
Green Bay Packers Youth Football Camps
Activities Schedule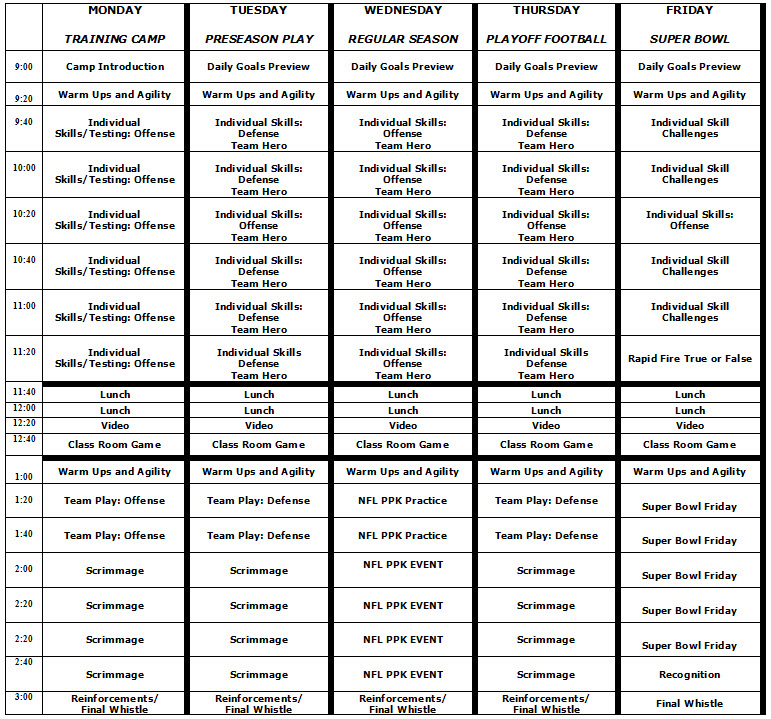 For Your Camp Address and Director Name:  click here
SCHEDULE KEY
Individual Skills: Through station-based training, teaching all football playing positions.
Team Skills: In group settings, teaching more team work oriented skills as well as time spent on competitive games such as scrimmages, skill contests and other challenges.
Classroom Games: Team play classroom games such as Eat like a Pro, The Franchise, Chief Scout Offense, Chief Scout Defense and Rapid Fire True False.
Video: Short video periods featuring video on team history, Super Bowl teams or greatest players.  Also, entertaining and educational video designed to teach sports fitness (hydration or muscle strength) and proper nutrition habits.
Team Hero:  Alumni Heroes are typically scheduled Tuesday, Wednesday or Thursday of the camp week.  Due to their personal and business schedules, we only confirm the names 24 hours in advance of their appearance.  Additionally, Heroes may switch to Mondays, Fridays or afternoon appearance time slots for various reasons.
IMPORTANT INFORMATION ON PICK UP:
Due to additional commitments for coaches, parents must be prompt for pick up. We can cover up to 15 minutes after the camp day ends, but it is prohibitive for coaches to remain any longer. Therefore, we reserve the right to require an additional payment of $15 dollars for pickups after the first 15 minutes and an additional $10 for every 10 minutes thereafter.
WHAT TO BRING:
Your child should bring a lunch and snacks every day. We strongly recommend sports drinks and water. Wear your camp t-shirt everyday.  Bringing a gym bag with an athletic shorts, an extra t-shirt, socks, water bottle and sun screen is a great idea. Please put your child's name and phone number on all personal belongings!