Experienced Football Heroes Lend Support to Green Bay Packers Youth Camps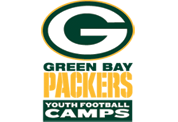 Experience is the greatest teacher.
With that in mind, the Green Bay Packers went out and invited almost a dozen Alumni Heroes–loaded with football experience and life experience– to take part in Green Bay Packers Youth Football Camps this summer.
And Green Bay Packers Alumni Heroes happily accepted the invitation.
Various Packers Alumni Heroes will appear at more than 10 camp locations, including two in Madison Wisconsin during the week of Mon. June 18 – Fri. June 22 at Abundant Life Christian School and Mon. July 23 – Fri. June 27 at Bishop O'Connor Center. All Packers Youth Camps provide non-contact instruction for kids ages 6-14 years old.
"These guys love teaching kids through football," says Packers Youth Camp Executive Director Tom Finks. "Absolutely, they are committed to teaching football skills and techniques. But the Heroes also see a teaching opportunity that goes way beyond football. They really score when they teach the life skill lessons."
Packers Alumni Heroes see the opportunity to teach essential life skills such as respect, sportsmanship and team work through the camps. They also promote priorities such a healthy eating and commitment to the class room. When these larger-than-life heroes talk, the kids really listen.
"Sometimes a parent will tell us their child was really impacted by a Hero message," says Finks. "The child comes home from camp and immediately takes out the garbage or rejects a fast-food dinner. Parents are floored because they have been pounding home that same message for months. Sometimes it takes a different voice–and it helps to be 6'5'', 240 pounds as well."
Packers Alumni Heroes lend credibility to this non-contact format as well. Many parents mistakenly believe you need shoulder pads and helmets to develop or enjoy football.
"To a man, the Alumni Heroes all agree that the non-contact structure is the best training platform for kids, especially in June and July," say Finks. "Both beginners and highly experienced players have a lot to gain from the non-contact format. Our instruction is very similar to what the Heroes did during their summers–with a focus on form, technique and athletic skills."
According to Finks, the most important contribution heroes make is the easiest.
"They make it fun," says Finks. "First and foremost, these guys excelled because they really loved playing football–in any form. That shows in their attitude at Packers Camps.
The Green Bay Packers Alumni Heroes are scheduled to appear at various camps throughout the summer. Typically, a single camp will get appearances from three different heroes on three different days.
Alumni participants include: John Anderson (LB -University of Michigan), Ron Cox (LB-Fresno State), Johnnie Gray (S – Cal State Fullerton), Ahman Green (RB – Nebraska), Larry Krause (RB – St. Norbert, Running Back), Dexter McNabb (RB – Florida), Bryce Paup (LB – Northern Iowa), Paul Rudzinski (LB – Michigan State), Bill Schroeder (WR-Wisconsin Lacrosse), Kurt Larson (LB – Michigan State)
Green Bay Packers Youth Football Camps provide non-contact instruction for kids ages 6 to 14 years old. This is safe, non-contact structure allows kids to both learn the game and develop into an elite player.