Eagles Camp Coaches and Heroes
Camps are led by professional educators and college coaches. Our coaches develop athletic skill, build confidence and provide positive reinforcement. These outstanding educators are the foundation of our day-to-day operations and the key to our program quality.
Evan Breisblatt, Pequea Valley High School–16 years experience
Al Crosby,  Imhotep Charter High School – 12 yrs experience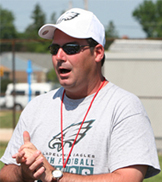 Dave Guenther, Northeast High School – 13 yrs experience
Chris Lea, Holy Name High School – 12 yrs experience
Mike Melnyk, Manheim Township HS - 24 yrs experience
Dale Smith, Great Valley High School - 5 yrs experience
Mike Wilson, Oakcrest High School,  – 8 yrs experience
CAMP HEROES
Our coaches are supported by Philadelphia Eagles Heroes - men that earned their living wearing the Philadelphia Eagles uniform. Eagles Heroes are fathers and family men that understand the dynamics of communicating with young people. Heroes appear at various times throughout camp operations.
Fred Barnett (Arkansas State): Wide Receiver, 1990-1997
Bill Bergey (Arkansas State): Linebacker, 1974-1980
Garry Cobb (USC): Linebacker, 1985-1987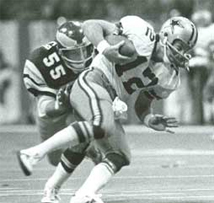 Irving Fryar (Nebraska): Wide Receiver, 1996-1998
Ben Hawkins (Arizona State): Wide Receiver, 1966-1973
Jim Kelly (Notre Dame): Tight End, 1965-1967
Sean Landeta (Towson): Punter, 1999-2000
Frank LeMaster (Kentucky): Linebacker, 1974-1982
Joe Pagliei (Clemson): Running Back, 1959
Vince Papale (St.Joseph): Wide Receiver, 1976-1978
Joe Pisarcik (New Mexico State): Quarterback, 1980-1984
Mike Reichenbach (East Stroudsbury): Linebacker, 84-89
Pete Retzlaff (South Dakota St): RB, WR, TEnd, 1956-66
Mike Schad (QueensUniversity): Offensive Lineman, 1989-93
William Thomas (Texas A&M): Linebacker, 1991-2001
Brandon Whiting (Cal Berkeley): Defensive End, 1998-2003
Eagles Youth Camp Hero: Player Biographies
Fred Barnett- Wide Receiver out of the University of Arkansas State was drafted in the 3rd round of the 1990 NFL Draft by the Eagles. His best season came in 1992 when he record his 1st 1,000 yard season (1,083 total yards receiving) and his only Pro Bowl selection. A knee injury ended his 1993 season early.  He was a comeback player of the year candidate, when re recorded his career best numbers in receptions(78 receptions) and yardage(1127 yards).
Bill Bergey- A linebacker out of the University of Arkansas State, Bergey was drafted by the Cincinnati Bengals in the second round in the 1969 NFL Draft. Bill was one of the Greatest Linebackers in the history of the Philadelphia Eagles and named by the Philadelphia Sports writer Association as a Living Legend. Traded to the Eagles in 1974, Bergey made the Pro Bowl 4 out of his 7 seasons with the Eagles. He was named the Eagles MVP 3 times and once made 233 tackles in a single season, and once held the record for the most interceptions for a linebacker in a single season.
Garry Cobb- Drafted by the Detroit Lions in the 1979 NFL Draft as a linebacker out of USC. At USC he played in 2 Rose Bowl Championship teams and one National Championship team. He was also selected All-Pac- in 1978. He spent 6 seasons with the Lions where he was the team captain for 3 years and led them to the playoffs in 2 of those years. His Philadelphia Eagles career feature 3 years along side of Hall- Of-Famer Reggie White. He then ended his career in Dallas in which he played under head coaches  Tom Landry and Jimmie Johnson and Hall-Of-Fame teammates Troy Aikman and Michael Irvin.
Ben Hawkins- Was a third round pick by the Eagles in the 1966 NFL Draft out of Arizona State. In his second year with the Eagles he led the NFL in pass reception yardage with 1265. During his 8 year career with the Eagles, Hawkins caught 261 passes for a total of 4,674 yards.
Frank LeMaster- Drafted by the Eagles in the fourth round of the 1974 NFL Draft out of the University of Kentucky as a linebacker. LeMaster played all of his 9 NFL seasons with the Eagles and was the key part of the 1980 Eagles Super Bowl team. He was named to his only Pro Bowl in 1981. He finished his career with seven fumble recoveries, 10 interceptions, and 2 touchdowns.
Vince Papale- Was the oldest rookie to ever play in the NFL without any college football experience at the age of 30, when Eagles Coach Dick Vermeil held an open tryout for all comers in 1976. He was voted by his teammates Captain of the Special teams and most recently selected by the fans as the best special teamer in the Eagles 75 year history. Papale was the inspiration behind the Disney movie Invincible.
Mike Reichenbach- Was drafted by the Eagles in the 1984 NFL Draft out of East Stroudsbury as a linebacker. He played in 120 games in his 8 year NFL career with the Eagles and Miami Dolphins and played in 4 playoff games.
Peter Retzlaff-  He was drafted by the Detroit Lions in the NFL Draft as a running back out of South Dakota but did not make the team. After spending 2 years in the army, he was sold to the Eagles where he played multiple positions such as running back, tight end, and wide receiver. In 1958, having never caught a pass in college, led the NFL with 56 receptions. He is a 5-Pro Bowler and won the Bert Bell Award for NFL player of the year in 1965 when he caught 66 passes and 10 touchdowns. Retzlaf's jersey number 44 is retired by the Eagles.
Mike Schad- Selected by the Los Angeles Rams in the first round of the 1986 NFL Draft out of Queens University as an offensive lineman. He is the only player in CIS history to be drafted in the first round. In 1986 he won the J.P. Metras award which is presented annually to the top down lineman in university football in Canada.
William Thomas- Selected in the 4 round of the 1991 NFL Draft by the Eagles out of the University of Texas A&M as a linebacker. He played 9 seasons with the Eagles and 2 seasons with the Oakland Raiders. He is a 2-Time Pro Bowl in both 1995 and in 1996 with the Eagles. Thomas ended his career with a total of 37 sacks and 27 interceptions and will be remembered as a fierce pass-coverage linebacker.